Coy A. Adkins Jr.
Sgt. Infantry

---
I was drafted December 15, 1966 in Montgomery Alabama. Went from Montgomery to Fort Benning, Georgia, for Basic Training at Sand Hill. Took AIT at Fort Polk, LA. I was held over one training cycle as an assistant before receiving orders for Vietnam. Arrived in-country June 22, 1967 and went to the 90th Replacement Center in Long Bien. I had five days at Lightning Replacement Center, basically to get use to the climate. From there I joined A Company, 3rd platoon, of the 1/27th in the field by supply chopper, the next day, as they were out when I arrived.
I was first wounded October 18, 67, in Tay Ninh Province by a trip wired U.S. Grenade along with Dick Mattison and Sgt. Joseph Morton, my Squad leader. I was with 1st platoon when we were accidentally napalmed on Jan. 4, 1968 in Hia Nghia Province and was one of few to walk away uninjured physically. Still unsure of who survived after they were sent to Japan.
I went through TET at Hoc Mon and participated in the battle at Hoc Mon for the larger part of a week. I was in the February 6, firefight in the Cemetery where Gary Huber was wounded and C Troop of the 3/4 Cav. took so many casualties, when they came to our aid.
Received my second PH February 28, when I went back to Cu Chi for a dental appointment and had the misfortune of arriving for a 122 Rocket attack. Also received the Army Commendation Medal for Valor and Bronze Star for Merit.
Left the field June 16, and country June 22. Spent the remainder of my time in service with the 197th at Fort Benning, Georgia, working at various weapons training ranges and we spent a portion of that time as an aggressor unit training Rangers at Dalonaga, Georgia.
I now live in Notasulga, Alabama. I sand and finish hardwood floors and sail at Lake Martin as often as I can.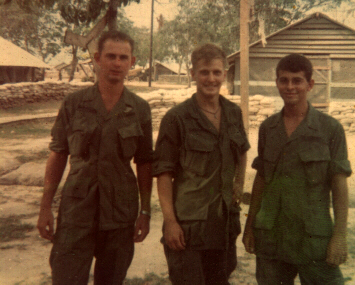 From left Richard Mattison, unknown, Coy Adkins, in Cu Chi
Let me know if you can identify the other person.
I am a member of the 25th Infantry Division Association. and The Red Neck Navy :-)
---
Top of Page
Home Page